One platform for all your
construction projects
Collaborative tools perfectly integrated into the building trades services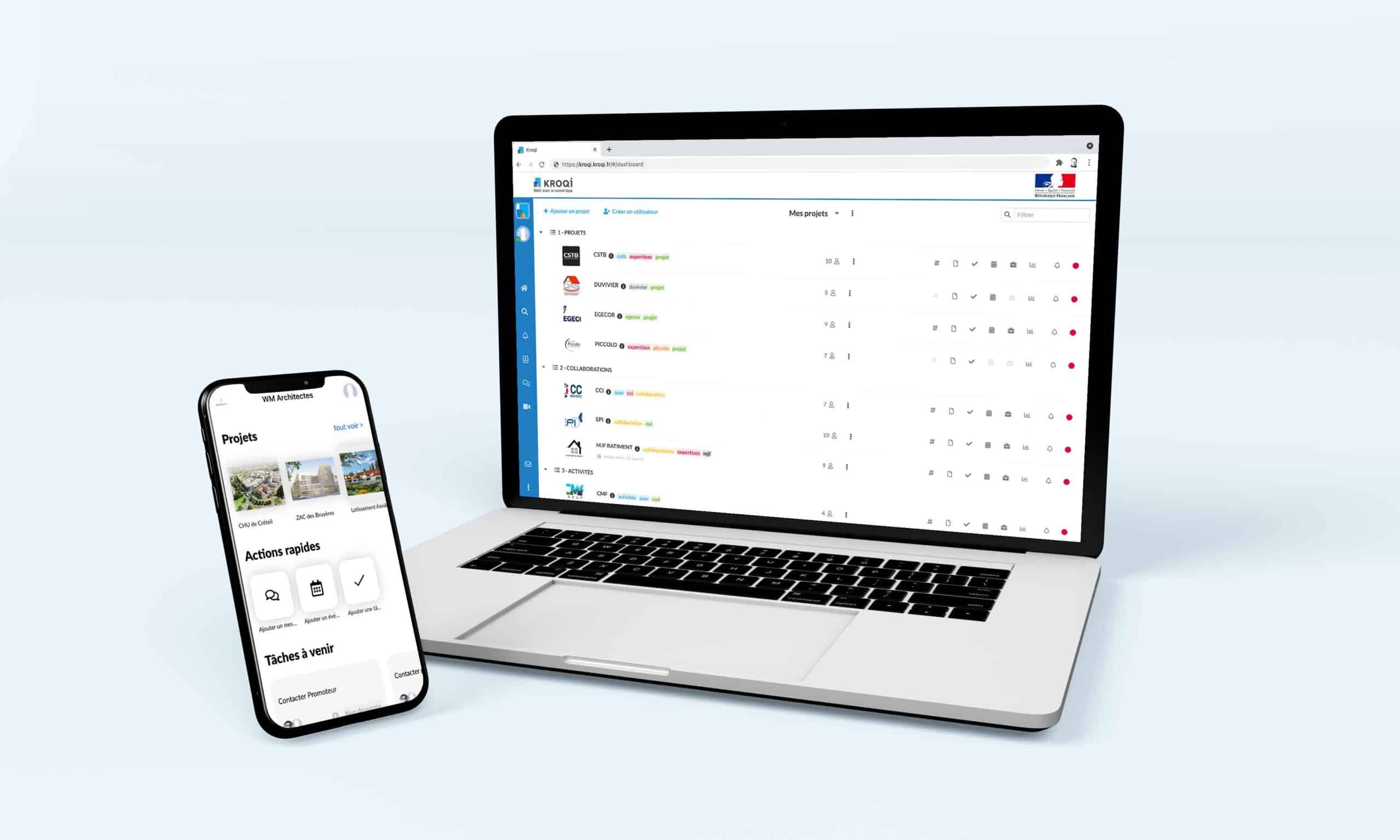 The best of collaboration

Unified project spaces
Centralize teamwork and focus on what really matters: successful projects.

Instant messaging
Interact in real time with your teams and easily find relevant information and exchanges.

Documents & Drive
Share and organize your files and folders with your teams and clients.

Tasks & Gantt
Manage and track your tasks and display them in Gantt mode for a global vision.

Shared agendas
Easily create and find events, milestones, key dates, and deadlines for your projects.

Videoconferencing
Call in audio and/ or video and share your screen with your teams and customers.

Unified project spaces
Track team performance, workload, and project progress.

Rights management
Define specific access rights for each project according to each contact.

Mobile applications
Collaborate and work wherever you are with our iOS and Android apps.
Integrated business services

Calculation of physical quantities
Calculate the physical quantities from the values of an IFC model.

Building permit assistant
Automatically fill in information relating to the area calculation according to the premises' destination.

Model quality control assistant
Check for the presence of information in an IFC mockup according to an MVDXML rule set.

Protocol manager
Get assistance in adding protocols and using simple MVDXML rules.

File naming conventions
Check the names of the files according to a defined naming rule.
Third-party services available in KROQI

Abyla BIM Checker
Check the IFC files intended to feed an Abyla technical asset management database (Bim de Gestion).

Edilus
EdiLus is the SMART solution for designing and calculating of building structures in reinforced concrete, masonry, steel, and wood.

PriMus IFC
PriMus-IFC is the software for take-off and quotation from IFC file.

BatiChiffrage
Price base and online software to quickly calculate estimates and quotes for work.

Edificius – Conception BIM
BIM software for 3D architectural design integrable with the take-off and calculation of the structure.

Edificius LAND
Edificius LAND is the software for the design of gardens, outdoor spaces, and land modeling.

usBIM Browser
Online navigation service for IFC models and BIM models, accessible via a web browser, allows you to directly view online on all your connected devices.

PBIMData.io collaborative platform
BIMData.io is a collaborative openBIM project management platform. View, share, validate, and enhance your digital models at all stages of your project.

usBIM.clash
Conflict detection software for 3D digital models from IFC files for interference verification and management and synthesis.

usBIM Viewer+
IFC file editor with advanced features for creating and editing BIM models

Place des Artisans
Research and estimate the costs of construction materials from your digital models and quickly access products from all the materials brands.

BIMChain.io
Digitize the processes, by linking operational, contractual, and payment BIM while ensuring convincing traceability for the insurance part.

BIMEO
Import IFC or BCF files from the BIMEO platform and its Scan3D OpenBIM tool – AR2Build.

Open-datBIM
Access structured data in accordance with the principles of the PPBIM standard and BIM objects in an open format and integrate them into a BIM process.
Turn your construction projects
into successes